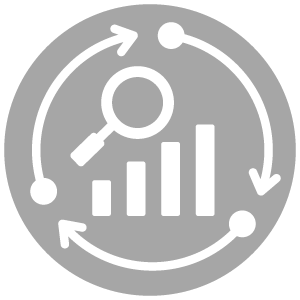 This article focuses on a Platinum-only feature.
The Polygon tool allows for the creation of Saved Links that show results located within a very specific area. This tool lets you draw a shape on the map to outline a search area. The only listings returned in this Saved Link will be within the outlined area.
To create this type of Saved Link with the Polygon tool, click on Design in the main menu, Website in the submenu, then click Saved Links. From there, click Create Link in the upper-right corner.
Step 1 - Choose Polygon
From the drop-down, choose Standard Results under the Polygon option. Then click "Next Step".
Step 2 - Draw Your Shape
You will see a map with controls on the left. To start drawing your shape click on the Polygon Tool
. Click the outside points of the area you want. You cannot click and drag your mouse cursor like a pencil to draw, but you can add points around the outside edge to create a boundary around your area. To finish your boundary, click the first point you made to close the loop.
​
While you edit your polygon, take note of the zoom level and area of the map in view. The front end result page map should have the same zoom level and coordinates as shown here.
NOTE: There will not be property markers on this preview map.
If you would like to edit the shape of your area you can do so with the Edit Tool
. When you click the Edit Tool, the existing shape will become pink dashed lines with grab-points on all the corners. You will also see new grab-points between each of your original points. You can grab and move these new points just like your original points to change the shape of your area.
When you are finished editing the points around your area click the Save button next to the Edit Tool.
Additional Filtering
You can choose some additional criteria for your Saved Link, like which MLS from which to pull listings, what property type, price range, and number of bedrooms and bathrooms.
NOTE: If you have more than one MLS in your account and you choose "All MLSs" you will not be able to include any Advanced Field data as described in the section below.
Click Next Step when you are finished.
Optional - Advanced Link Customization
You can add any advanced field options in this area to further filter the results that will show in this Saved Link. You must know the variable name and value as it appears in a Results page URL string. You can run a test search from your Advanced Search page to get these variables from the URL. Common strings that you might need when using advanced customization options include:

Minimum square feet: &sqft=
Maximum days in system: &add=
Sort from high price to lowest: &srt=prd
Sort from low price to highest: &srt=ard
Minimum photo count: &amin_photocount=
Has virtual tour: &wvt=y
Has open house: &woh=y
NOTE: Most modern browsers limit the length of URLs. Please be aware that polygon searches with many points and additional search criteria can exceed this limit and lead to inaccurate results.
Step 3 - SEO and Subheader
Here you can set a custom Page Title, Link URL, and set custom Meta Tags for this unique set of search results. You can also add a Subheader to this page to make it even more unique and engaging (you can add this later if you wish to simply save the link now).
If you have an Office Account, you can also assign an Agent to this link. The assigned agent will receive any new leads that come in as a result of clicking this link.
When you are finished click on either Save & Create another link or Save & Manage links.